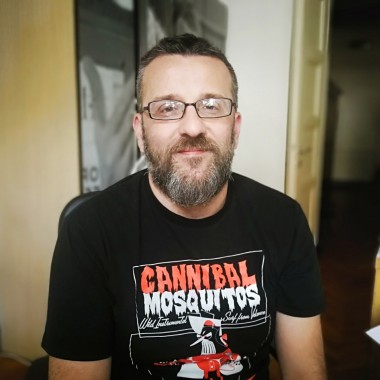 During his twenty years of professional involvement in the administration and strategic team of several international organizations and non-governmental organizations, he has gained extensive business experience. He has completed various professional development programs in the field of management, education, production and has been volunteering in the organization of cultural events and film production since 1996.
He is particularly interested in independent music production and since 2013. he has been actively involved in the creation of a concert program at the various venues in Zagreb (club Mochvara, Vintage Industrial Bar, KSET, Tvornica Kulture, etc.). From 2013 to 2019 he worked as a technical producer for the Human Rights Film Festival in Zagreb.
He has produced several media campaigns for independent cultural centers with the aim of raising public awareness about different social and political problems (in cooperation with the FES Foundation and as part of a European project "PAL PUSH") and a number of short promotional films and animations for the Croatian Firefighters Association. His filmography also includes working as a producer in the media campaigns for the City of Split "Waste is not a Garbage", Croatian-French tourism campaign "Whimsitech", Center for Cultural Activities campaign "Video info corner for asylum seekers", documentaries "Format Daddy" and "The Golden Hour".
He is currently working as a screenwriter and producer of feature documentary film "Grandpa Guru" directed by Silvio Mirošnićenko and also developing a documentary film "Garage Days" and feature film "Planet Karavan".