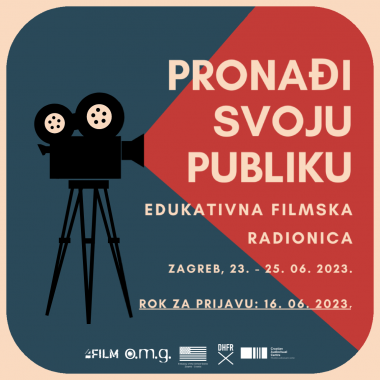 Open Media Group and 4 film production are announcing call for applications for the upcoming educational film workshop "Find your audience", which will be held in Zagreb.
It is a three-day workshop intended for producers and other film professionals who want to be informed and educated about project development through all stages of production, about green production (green filmmaking) and socially conscious filmmaking. The goal of the workshop is to educate film professionals on how to position their project on the film market.
The workshop will take place over 3 days from June 23rd until June 25th 2023. in Zagreb.
Mentors at the workshop are:
Rose Troche is a famous American award-winning screenwriter, director and producer. She has worked on series such as Six Feet Under, Ugly Betty, Black Lightning, Vida, Sorry For Your Loss, How To Be A God Central In Florida, Zoe's Extraordinary Playlist, Shameless, Walking Dead and Ginny and Georgia.
David Pollard is the co-founder and CEO of the Workplace Pride Foundation, which represents the LGBTIQ+ network in more than 100 prominent international companies and organizations and strives for greater LGBTIQ+ inclusion in the workplace.
Zsófia Szemerédy and Julia Tordai from Green Eyes Production are producers and experts in sustainability and green filmmaking.
Find your audience is an interactive workshop in which participants will:
- Learn about the different stages of film production and the positioning of their film on the market
- How to find an audience for your project, marketing, sales and distribution in terms of positioning - from international sales, festivals to national screening strategies
- Learn about green production (sustainable film production is a concept of film production with special concern for environmental, economic and social issues. Sustainability in film production includes socially and environmentally responsible decision-making in pre-production and film production)
- Learn about socially conscious filmmaking together with other arts and global daily events that affect a large part of humanity (minority rights, the COVID 19 pandemic, escalation of conflicts).
The workshop is intended for Croatian film professionals and film students.
To register for the workshop, please fill out a short survey on the link below:
https://forms.gle/AzjfiFcBv5kHcXyV9
Registration and participation in the workshop is free. For more information about the workshop, feel free to contact us by e-mail: office@4film.hr
The application deadline is June 16th, 2023.
Find Your Audience workshop is supported by the Embassy of the United States of America in Croatia, Croatian Audiovisual Center and the Association of Croatian Film Directors.