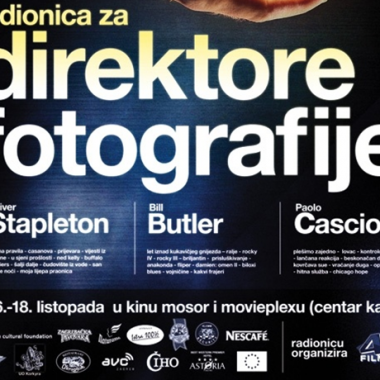 The workshop for directors of photography was held from October 16th – October 18th in Cinema Mosor and Movieplex in Zagreb. The lecturers were Oliver Stapleton, Bill Butler and Paolo Cascio.
Bill Butler received Life Achievement Award American Society of Cinematographers and was nominated for Oscar for the film "Fly Over the Cuckoo's Nest ". He worked on numerous film classics including "Jaws", "Rocky II", "Rocky III", "Rocky IV", "Grease", "The Conversation"…
Oliver Stapleton was director of photography on famous Swedish director Lasse Halström on his films "Cider House Rules", "Casanova", "The Hoax", "The Shipping News", "An Unfinished Life"; and on world famous films - "Ned Kelly", "Buffalo Soldiers", "Pay It Forward", "The Water Horse", "A Midsummer Night's Dream", and many other.
Paolo Cascio received International Cinematographers Guild Young Talent Award, and he worked on over 30 films, among which are "Save the Last Dance", "Hunter", "Mercury Rising", "Chain Reaction", "Groundhog Day", TV series "ER", "Married With Children", "Chicago Hope", "Crime Story" and other.
On Friday October 16th in Cinema Mosor, the opening speeches were held by Mr. Srecko Sestan, Director of Directorate for Performing Arts and Audiovisual Affairs of Ministry of Culture, Ms. Avis Beneš, manager of EU Info Center and Ms. Nela Gudelj, Director of Educational Centre of Croatian Television.

After introductory lecture in which all three lecturers participated, the practical example lectures were opened by Bill Butler on Saturday morning. Bill Butler can truly be called a Hollywood legend. His work is still used and practiced by Cinematography students all around the world. Using examples of film classics he was director photography on - "Fly Over the Cuckoo's Nest " by Milos Forman, "Jaws" by Steven Spielberg, "The Conversation" by Francis Ford Coppola, "Grease" and "Rocky III", Mr. Butler spoke about the essential aspects of the cinematographers work – lighting, cooperation with the director, standards he set when lighting the boxing ring in "Rocky" or when filming night for day in "Jaws". When a cinematographer needs to shoot "day for night" (term that is used for scenes that are shot in day time but need to represent night) he uses the same technique that Bill Butler used in the film "Jaws" by Steven Spielberg. In "Grease" he played major role in adapting the theatrical musical onto the big screen and thus greatly contributed to the success of the film, which is still the musical with the most sold tickets. Lighting the film set that Mr. Butler used in "Rocky" films for shooting the scenes in boxing ring was so exquisite that after the film the same lightning is actually used in real boxing rings during the fight. Bill Butler, the cinematographer that worked with some of the greatest directors of the cinema is the idol for cinematographers all around the world.
During afternoon, Mr. Paolo Cascio showed short film "Almost perfect" for which he received the International Cinematographer's Guild award. He lectured on use of digital camera in different types of projects: commercials, music videos, documentaries, TV series and films. Participants were particularly interested in new technologies and asked questions to which all lecturers answered with enthusiasm.
After Mr. Paolo Cascio, Mr. Oliver Stapleton took the floor, and spoke on working on the set and preparations for shooting of films he worked on: "Absolute Beginners" and "Water Horse". In film "Absolute Beginners" he particularly spoke about the preparations for the first shot that lasts 12 minutes in which he uses hundreds of lights and very complicated camera movement, the setting of which took three weeks. "Water Horse" had numerous visual effects shots that represent special challenge for the director of photography during the preparation and the set. During his lecture, Mr. Stapleton supported his examples by numerous test shots and set photographs.
On Sunday the workshop was held in Movieplex cinema. The location of the lecture changed, because Mr. Stapleton's film was under right of Continental Film (Croatian film distributor) and we were only able to screen them at the Movieplex theatre, which has the permission to use this material. Mr. Stapleton continued his lecture by examples from "Casanova", Lasse Hallström film with Heath Ledger and Sienna Miller. The participants had the chance to see exclusive photographs from the film "Don't Be Affraid of the Dark", with Guy Pearce and Katie Holmes, that is going to distribution in 2011. The workshop was closed by all three lecturers answering participants' questions and giving them advices for future work.
The whole workshop was interactive and 89 participants (18 women and 71 men) of workshop could in any time ask questions on which lecturers were happy to answer. The questions were mostly related to creative co-operation with the directors and practical solutions to problems in the films we all know and love.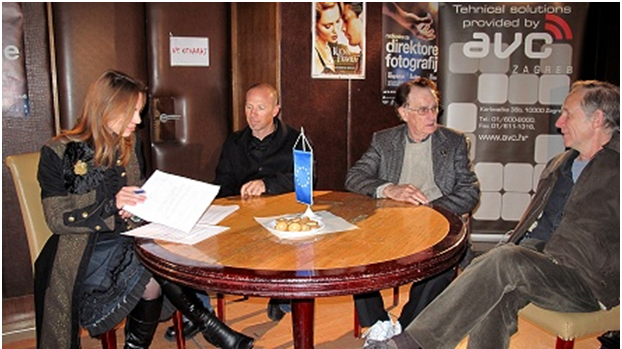 Besides the knowledge transfer, lecturers gave the participants valuable life lessons. Mr. Bill Butler worked as TV technician and decided to become a Director of Photography when he was 40. Everyone told him he was crazy, but he didn't give up and his biography proves that it is never too late. He created film works which represent the highlights of history of the film and keep the viewers attention and fascination until today. All three lecturers had rough times during their careers and suffered from unemployment at some time, but they managed to become what they are today because of their hard work and talent, but most of all – strong will. This side of Hollywood success was very important and motivating part of lectures, because most of our television professionals have insecure and irregular income, since most of them are free lancers. Because of this many of them neglect their talent and chose more secure professions. Hearing that some of the most distinguished cinematographers of today had gone through similar problems was very good for moral of the workshop participants and many of them informed us that they instantly felt better and more motivated to continue with their work.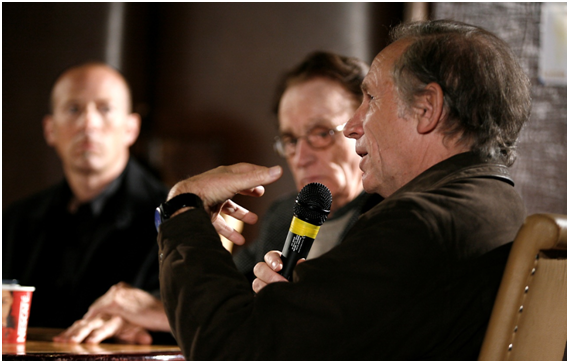 We are very happy that the participants of the two workshops (total of 179), ranging from students to top professionals from Croatia and neighbouring countries marked the workshop with the high grades and commented that they whish there were more similar initiatives.
All the participants held lectures without a fee and were our guests in Zagreb. Thanking to sponsors we provided them with warm welcome, and meals within our possibilities, and we ensured lower prices of airplane tickets and accommodation.