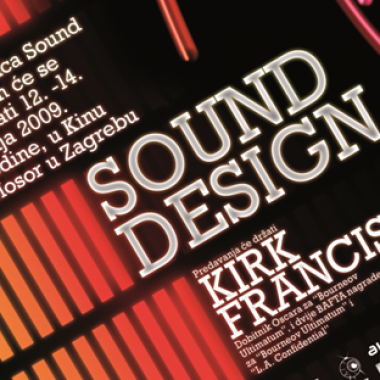 The workshop for sound designers took place in Cinema Mosor in Zagreb, June 12th-14th 2009, and the lecturers were Kirk Francis, who won an Oscar (Academy for Film Arts and Sciences Award) for "Bourne Ultimatum" and two BAFTA Awards (British Academy of Film and Television Arts Award) for "Bourne Ultimatum" and "L.A Confidential", for which he also received Oscar nomination. His professional biography includes numerous films, among which are "The Postman", "Wonder Boys", "Sleepless in Seattle", etc. The other lecturer was Benny Dunker, from Babelsberg Studio in Berlin, who worked in numerous films among which are "Bourne Supremacy", "Bourne Ultimatum", "Inglourious Bastards", etc.
After announcing the workshop in media and specialized portals (Film Fund in Slovenia, Film Centre in Serbia, Filmmaker Society in Bosnia and Herzegovina), we received numerous applications. To be able to provide the education for all interested we have modified the workshop into a format that enabled all of them to attend.
The workshop was attended by 73 participants (9 women and 64 men) – from all sectors of professional sound – sound engineers, sound re-recording mixers, sound editors, sound studio owners. Introduction lecture was held by Vlado Božić, sound recordist from Belgrade working in Zagreb, about the situation in region and elaborated the question if in the regional production even exists a "sound designer" and how is his job distributed among various people.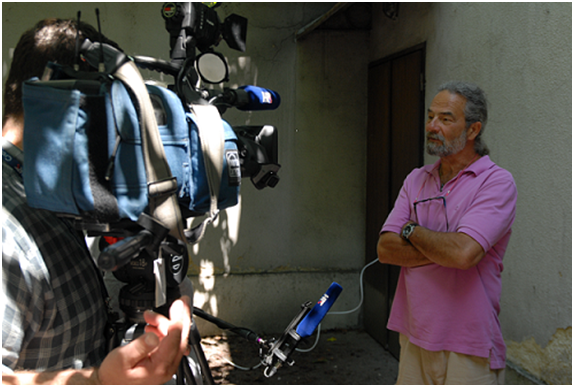 Afterwards Mr. Kirk Francis and Mr. Benny Dunker spoke about how they started their careers, their work experience up-to-date, working with different directors and different approaches to film. The second day of the workshop was devoted to the role of sound in film and what does it mean to be the sound designer on a film. Mr. Kirk Francis spoke about the artistic cooperation with the director, the technical and production aspect of the job and their mutual interrelation; when does a sound designer begin working on a film, and when is his job finished, with whom does he co-operate during the production and sound post-production (boom-operators, sound editors, foley artists, additional dialogue recording and sound mix).
During the afternoon, they spoke about different artistic approaches to sound in different films, and about different ways of using sound in film. As examples in his lectures, Mr. Francis used films "Citizen Kane" (dir. Orson Welles), "La Dolce Vita" (dir. Federico Fellini), "Malena" (dir. Giuseppe Tornatore), "Blow Up" (dir. Michelangelo Antonioni), "Five Easy Pieces" (dir. Bob Rafaelson), "Apokalyps Now" (dir. F.F.Coppola), "The Swiming Pool" (dir. Jacques Deray), "Mr. Holland's Opus" (dir. Stephen Herek), "Eight Below" (dir. Frank Marshall), "Ratatouille" (dir. Brad Bird), "L.A. Confidential" (dir. Curtis Hanson), "Raging Bull" (dir. Martin Scorsese), and "No Country for Old Men" (dir. Joel & Ethan Coen).
The final day was completely devoted to the film "Bourne ultimatum" (for which Mr. Kirk Francis received Oscar and BAFTA award for sound) and different aspects of sound on that film – from preparation for the shooting, choosing and recording atmospheres (wild tracks) up to creating special sounds for the film. While Mr. Kirk Francis lecture contains more innovative and creative solutions to reach the desired sound of the film, Mr. Benny Dunker was here to offer more technical information and represented how he managed to cope on the sound production and find the solution even without all the needed resources on the set, which was very interesting and motivating for the workshop participants. During the lecture breaks, both lecturers offered more advices to the participants that approached them with numerous questions, who were very eager to learn and hear more.
Besides the interest of the professionals, the visit of Mr. Kirk Francis raise interest of the media, and several interviews were published in print media and on Croatian Television. In all press releases, as well as in the promotional materials, we have stated European Commission as one of the donors of the project.